A grief-stricken man sent a moving letter to his wife's hairdresser whose last visit before her passing was one of the "last best moments of her life," he says.
The husband, who spent "a really long time" waiting before starting to write, wanted to thank the woman whose simple act of kindness meant so much to his dearest.
His wife had been struggling with dementia at the time of her December 2019 appointment and he said he was grateful to Sara at the salon who cared for her as if she had been treating people with dementia all her life.
He added that he was allowed to sit next to his love during her appointment and they even turned the chairs so they could face each other and he could watch her facial expression. 
Talking about why Sara's kindness meant so much to him, he wrote:
"Sadly, she died in March. And that haircut was one of the last, best moments of her life.

"She felt so pretty. She visited the mirror in the bathroom several times during the day and would come out beaming. To see her happy was so priceless.
He went on to say:
"Looking back, it was likely one of dozens of haircuts you gave that day. But one which revitalised a woman's sense of self and her singular beauty.

"I hope you realised the power of your profession. It's so easy to take things like that for granted."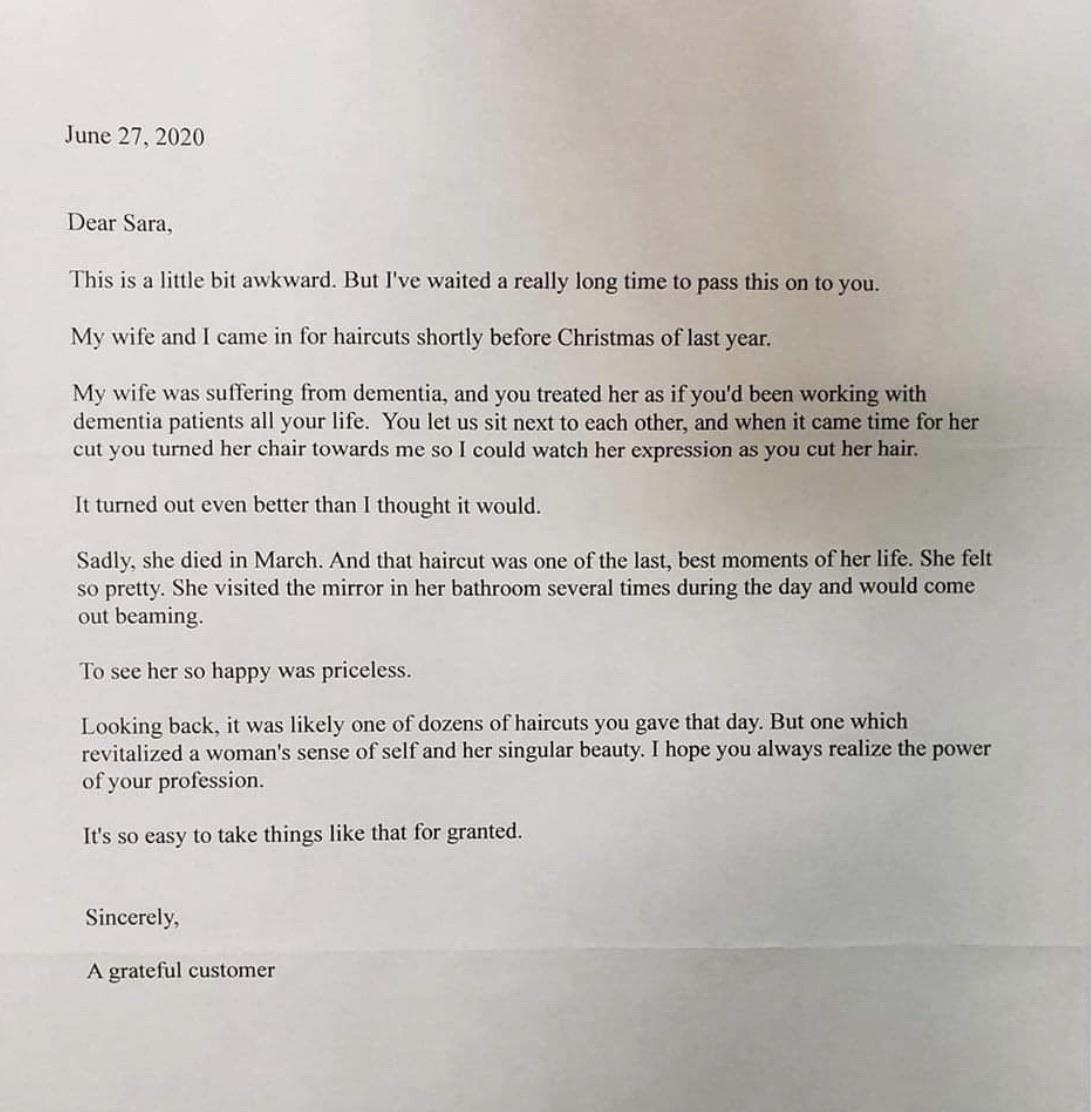 The letter, simply signed by an unknown 'grateful customer', was shared on Reddit and many people were left filled with emotion after reading it. 
"We often don't notice the impact we have on one another in the moment, what a beautiful letter," one commenter wrote.
Another person posted:
"How nice! People are always so quick to tell a person or business the negative experience they had, but leave out the positive when that could really change someone's day or come at a time when they've been questioning themselves or feeling down."
A third commented:
"That's so sweet!! Almost made me cry. What a nice gesture of him to do! I hope it lifted up not just the day for you but the whole year ;)"
And another one added:
"I'm a hairstylist and now I'm crying. I'm sure recieving this letter is one of the highlights of that stylist's career."

What are your thoughts on this touching story? Let us know by joining the conversation in the comments and please share this article if you've found it of value.